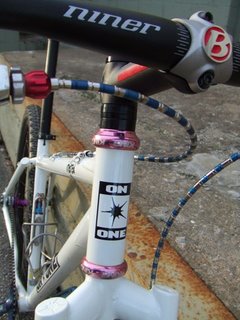 Here are some detail shots of my new Inbred 29"er. Once again, thanks go out to
Mr.24
for his digi-pics! Here we get a good shot of the
sinister set
Chris King pink goodness, the Nokon cable set, Niner Flat Top bar, and the Bontrager Race stem provided by the Jackal.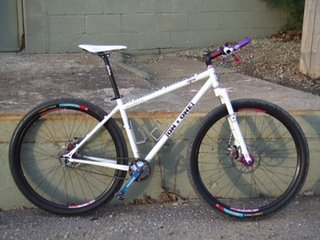 Profile shot showing the more upright seated posistion I was looking for to get more comfort on longer rides. The Fizik Arione saddle is highly recommended as a comfy, swank, and well made perch. Sporting Nanoraptors and a 34 X 18 gear. Avid BB-7, Salsa Delgado Disc rims, and purple Surly single speed disc hubset round out the wheels. You can't see it, but I've got gold, green, and purple spoke nipples too!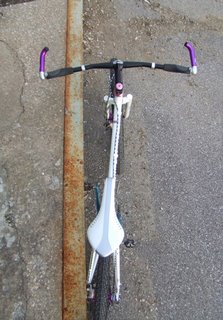 A look from above. The Niner Flat Top bar is a nine degree swept back affair with Ergon grips, old Avenir purple bar ends, and old Avid SD 2.0 red bladed brake levers. That bar is plenty wide! I may cut it down some. It's a 31.8 clamp diameter, by the way.
The pedals are old Ritchey spd type, the crank is an old Race Face Turbine LP forged aluminum at 180mm in length. The chainring, seat post, and green annodized skewers are all from Salsa. The chain is some old Sachs chain that I had handy just to get it up and running. I will probably upgrade that to a SRAM chain that I've got hiding in my tool box at work someday soon.
My intial impressions are that the Arione saddle is
waaaay comfy!
The frame makes that familiar
tink-tink
sound when small rocks and sand bounce off the downtube. The SurlyI own must be made out of thicker steel, because it doesn't make that sound! Speaking of the Surly, it's a heavier bike than this one. I've never weighed the Surly, but it's gotta be in the upper 20's. This Inbred came in at just under 25 lbs. Not bad. There are alot lighter single speeds out there but I'm a
clydesdale class
fella, so I like solid parts that are sensibly made. I've had my experiences with sketchy, lightweight stuff! No thanks! Besides, the Niner bar may get trimmed, which would drop the weight some along with the abscence of the barends, which are there only for the purposes of running the Dirty Kanza. I might end up with the Ergon integrated bar end/grips someday. The grips, if they were foam, would be a good place to lose weight too. I bet I could get this down to the 23 pound range pretty easily with a few good component swaps, but that ain't gonna happen........
at least not for awhile!
I can nevr leave a build the same for very long! We'll see what happens. In the mean time, I'm planning on putting some long hours on this bike. A report will follow after I've had some
quality time
on it!