Steve Potts teams up with Far East manufacturers to offer components
New Steve Potts Designs & Branded Components:
Steve Potts is a name maybe that you've not heard of, but if you are into MTB or gravel travel, you should know this name. Steve Potts was one of the NorCal MTB pioneers who started out building custom frames and forks for the mountain bikers back in the very early 1980's. He then was one of the four founding partners in Wilderness Trail Bikes. Steve Potts continued to make custom frames under his own brand, but also did designs and frames for WTB up until around 1995-96 when he left WTB.
Steve then continued making titanium and some steel custom frames and forks, developing the Type II fork into something that became somewhat of a cult favorite and his titanium frames are without peer. However; even with his son helping out, keeping on top of fork production was difficult. To help get more forks under more folks, Steve Potts has come into a partnership with some Far East companies in Japan and Taiwan to bring not only Type II forks in, but new hubs, and more things in the future, like tires made by Panaracer. See this story for more details.
Comments: Steve Potts designs some pretty cool stuff, and that Type II fork is highly regarded. Expectations for the hubs and whatever else comes forth from this are high. The hubs, reportedly made by Suzue, should be quite nice with interchangeable hub caps for 12mm through or QR, Campy, SRAM XD, or Shimano free hubs, and in black or a highly polished silver anodization.
Also interesting: This component line with a future tire and maybe more is very reminiscent of 80's/90's era WTB catalog stuff. What comes around goes around? Maybe. Whatever the case, this is something to keep an eye on, because if the high standards held by Steve Potts hold up through the imported line of components, then these items will be highly sought after by those in the know.
Trek's new redesigned Checkpoint
Trek Releases News On Redesigned Checkpoint Models:
Last week news broke on Trek's new Checkpoint model which has been redesigned from the ground up. While at first glance it may look similar to the outgoing model, there are some significant differences here.
Gone is the Trek seat mast which was a carryover idea from the Madone/Domane and had it's problems. The new Checkpoint looks to be using a much more sensible 27.2mm post size. You'll note also that the head tube is completely different. It would appear that the head tube lengths have been slightly increased per size compered to the outgoing Checkpoint's. The front-center has also been extended in the theme of many newer gravel bikes. This results in rider's needing shorter stems than with older geometry. Trek also claims that the head tube is slightly slacker, but at this time I have no geometry chart to share.
I would suspect also that there will be a price increase over the older Checkpoint which topped out at less than 7K for the range topping model. Obviously lesser spec'ed models will come in for less money. I would also assume that the aluminum Checkpoint will also receive similar updates, but as of now, Trek hasn't revealed anything to that effect. By the way, it should also be mentioned that there are a whole set of bikepacking bags with the Bontrager branding that go with this new Checkpoint- top tube bags, tank bags, handle bar and seat bags.
Comments; Trek's Checkpoint is a well designed gravel bike and this updated Checkpoint should appeal to a large number of riders. The ISO Speed rear is somewhat of an Achilles's heel, as it can be problematic in use, but it is a valid idea on rider comfort. If Trek has worked out some of the gremlins in their design, I would not hesitate to ride one of these.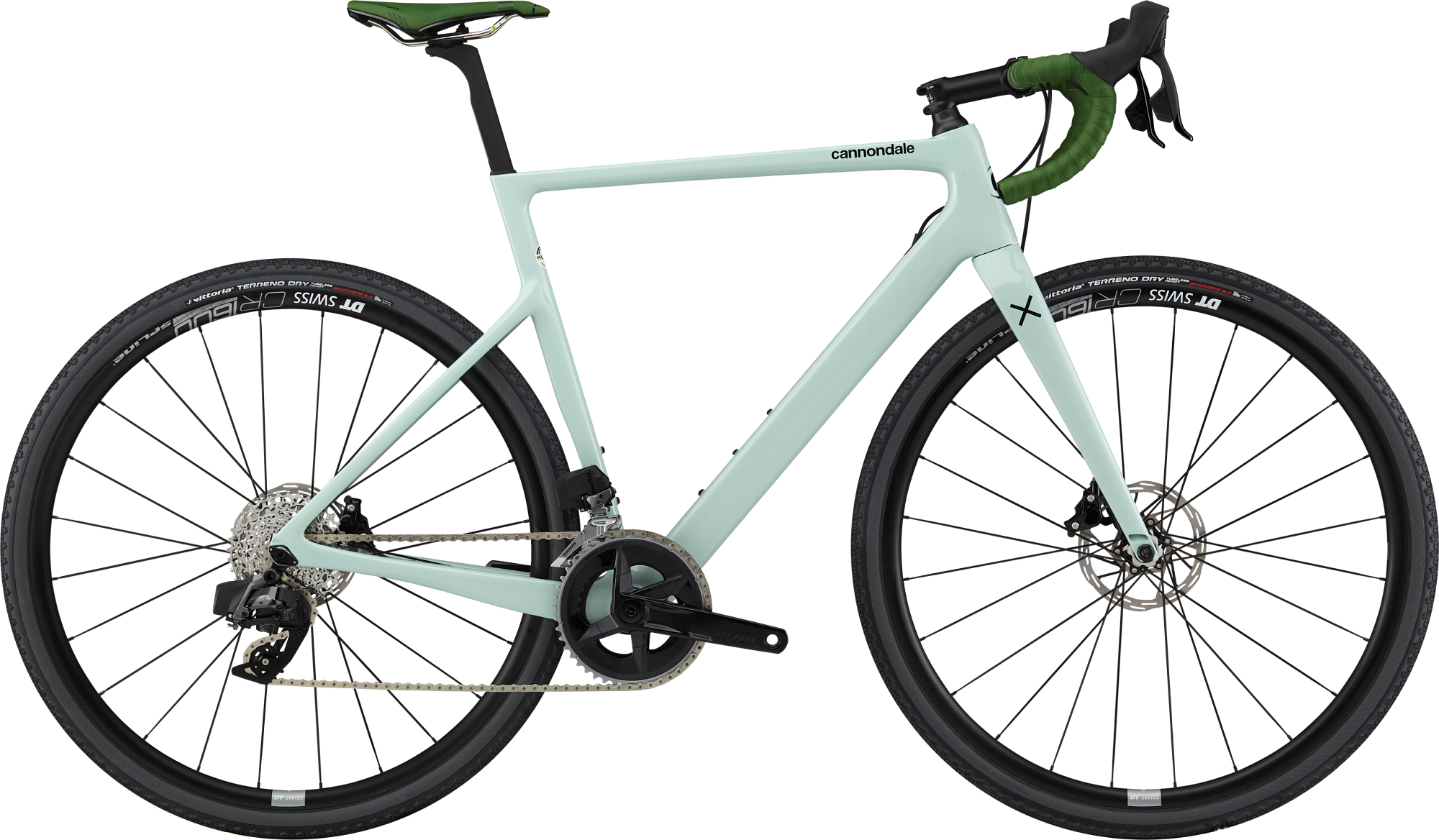 Cannondale's new Super Six Evo SE
Cannondale Releases Info On The New Super Six Evo SE:
Another new gravel bike, this time an aero gravel bike, from Cannondale. This is not a Topstone, but an evolution of the Super Six model. basically a Super Six with 45mm maximum tire clearances.
Comments: It is carbon, of course, so it is expensive. It also is prone to damage from mud and grit, like all carbon frames for gravel made without any nod to chain stay and fork protection where mud and grass and what have you can grind out a carbon frame in a heartbeat. To be completely fair, hardly any company gets this. But it is a real issue and it happens fairly often.
That and since Cannondale is using the exact same frame for its flagship cross bike, the bottom bracket drop pretty much is old cross style at 68mm. That's not modern gravel geometry at all. (See the Checkpoint above) Essentially, this is a cross bike foisted off as a gravel bike. Companies did a LOT of this in the mid-teens of this century because gravel as a category was taking off and many companies thought that they could simply pass off CX geo and be a part of the money-grab. Nope! And now Cannondale tries a ten year old trick? Not happening. Love the 71° head angle, but a quick look at the top tube lengths, wheel base, and the level-ish top tube, (great for CX bike shouldering), and it is easy to see which discipline this bike is really for.

A few weeks ago now I was interviewed by a young woman over the phone from the AXIOS Des Moines news site. I was asked about the history of gravel cycling and how it has gotten so big. Someone tipped her off and told her I might have had something to do with it all.
So, I answered her questions as best that I could, and then I subscribed to the AXIOS Des Moines feed to see if, and when, this might pop up. It has taken a while, but author Linh Ta has posted her write up and you can read it here on AXIOS. (It's free, I believe, to check out)
I always find it interesting to see how people interpret the story about Trans Iowa and how it started the ball rolling with gravel events and eventually, the entire gravel scene. As with most of these interviews, there are details that get translated incorrectly, but the gist of it all is very spot on. It isn't that I am not grateful- on the contrary - I am very grateful for the interview. I mean, who would have thought that three years after the last Trans Iowa that any media person would ever care about it at all? I wouldn't have suspected it.
Thanks to AXIOS and Linh Ta for the opportunity to share the Trans Iowa story with a wider audience!
That's a wrap for this week! have a great weekend - It's LABOR DAY weekend in the USA, so stay safe!